Procurement Australia Limited launched its Indigenous Procurement Policy in 2017, and since then, has continued to develop our business and cultural ties to our first-Australians.
We have been proud to take the lead in supporting Indigenous Business Australia (IBA) through a series of indigenous community start-up meetings and are now working with Ngara Procurement towards extending training services to young indigenous business leaders.
Procurement Australia has now included 'indigenous business supply' as an integral part of our Social and Ethical Procurement Strategy, together with high-agenda issues like Modern Slavery, Sustainability and Environmental Impact.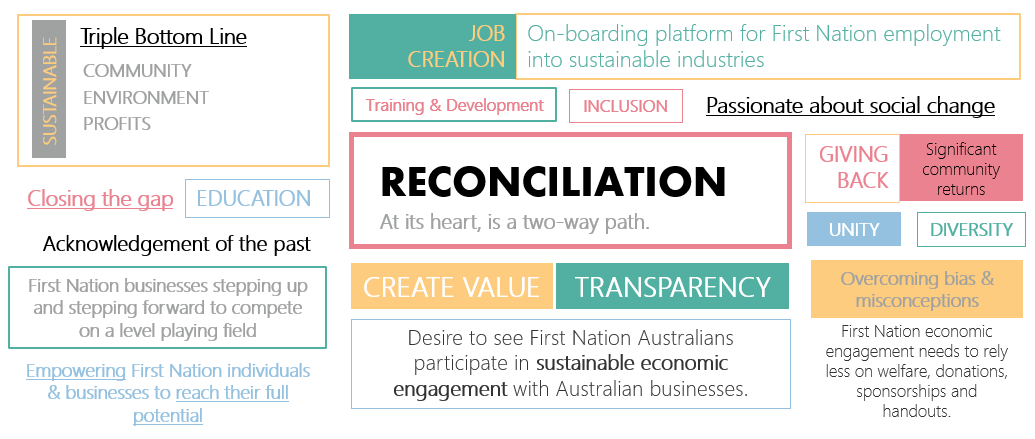 List of Indigenous Suppliers:
2103/0839 Multi-Functional Devices and Related Products & Services
Enigma Indigenous Peoples
Enigma Indigenous Peoples is owned in majority share by Peter Bligh; Elder and Traditional Owner from Wakka Wakka country in South East Queensland. Enigma has extensive experience in the supply of all computer and printing hardware, software and consumable products to a wide range of commercial, government as well as educational institutions across Australia. Enigma is under the Procurement Australia contract 2103/0839 Multi-Functional Devices and Related Products & Services and service our members nationally.
1911-0631 Debt Collection & Legal Services
Boomerang Debt Recovery P/L
Boomerang Debt Recovery (Boomerang) is Australia's first majority Indigenous owned and managed debt recovery enterprise. It is a Joint Venture between Eaglehawk Management Group P/L and Stydall P/L. Stydall brings a wealth of debt collection experience and expertise via its ownership of Executive Collections which has operated in commercial debt recovery since 1987 and for Local Governments since 1991. Boomerang welcomes the opportunity to participate across Federal, State, Local and Commercial procurement programs targeted at closing the Gap for the First Peoples of Australia.
2005-0630 Commercial Furniture, Ergonomic Assessments, Office Design, Project Management and Business Relocation Services
Winya Indigenous Furniture P/L
WINYA is a majority Indigenous owned, Supply Nation Certified specialist commercial furniture business, operating in each State*. We are supported by leading Australian companies who have committed to WINYA's Indigenous employment-focused manufacturing program. Buying your furniture from WINYA directly supports Indigenous employment growth in the Australian Furniture Industry. It also supports employment and skills in the many remote communities that are part of our components supply chain.
2211/0906 Personal Protective Equipment (PPE)
Wilard P/L
Wilard Pty Ltd trading as Cultural Choice was established in 2016. Cultural Choice as a supplier under Procurement Australia contract 2211/0906 Personal Protective Equipment (PPE), is a 100% Aboriginal owned and operated business with every dollar spent directly with Cultural Choice being recordable as Indigenous spend under the Federal Government Indigenous Procurement Policy (IPP) and the NSW Government Aboriginal Procurement Policy (APP) and assists in meeting any organisations internal Indigenous framework or Reconciliation Action Plan (RAP).
2312/0618 Recruitment Training and Associated Services
The Anna Centre
The Anna Centre (TAC), is an Indigenous owned, private psychology practice based in Bendigo, Victoria. They have an extensive team of psychologists working in every state and territory across Australia. TAC is the only Indigenous Psychology service approved by Supply Nation. TAC has a national presence but are only an awarded Procurement Australia supplier for ACT, NT, QLD, SA and VIC. They provide psychological assessment services to Procurement Australia member organisations. They are currently on the 2312/0618 Recruitment Training and Associated Services contract.
Key Areas of Indigenous Relationships We Continue To Develop:
SUPPLY NATION MEMBERSHIP
This allows Procurement Australia to engage with indigenous businesses and leaders at all levels.
NGARA PROCUREMENT
This is a strategic alliance that provides access to over 4,700 indigenous businesses via FACCI (the First Australians Chamber of Commerce & Industry).
INDIGENOUS PROCUREMENT POLICY (IPP)
Supporting indigenous and other businesses to develop indigenous supply into all levels of government and reporting businesses across Australia.
SOCIAL & ETHICAL PROCUREMENT
Engaging supply-chain partners like Blue-Sky Constructions, Ngara Procurement and Nallawilli Well-being to deliver real indigenous services at a high level.
Talk to Procurement Australia about anything related to Indigenous Suppliers:​